#F8E0E6;line-height:120%;">On 25 October, Mathew Guy delivered his talk[1] to community representatives from a top floor in a high building overlooking Melbourne's vast expanse, which exceeds that of Paris. Community representatives heard Guy, speaking of the need to accommodate an ever rising population, say that 85% of Melbourne's population growth is from natural increase. In fact only 40% is from natural increase. The other 60 per cent of Victoria's population growth is due to immigration.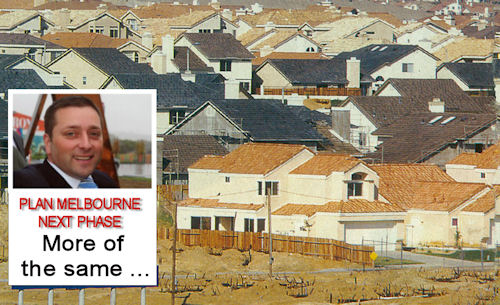 #F8E0E6;line-height:120%;"> Jill Quirk, President of Sustainable Population Australia, Victorian and Tasmanian Branch, immediately put her hand up to challenge Mr Guy's misinformation. Her question, however, was the last taken that day, as Mr Guy began to take questions from the opposite side of the room.
The Important Politics of Public Shopping Strips vs Private Shopping Malls
The subject matter of other comments involved the retention of shopping strips over private malls. This is very important because it involves the retention of public land - where people have the right to demonstrate, film and give out information. In contrast, the privatisation of commercial land into malls permits the developer-owners to exercise complex restraints over what retailers and customers may do. These rules generally rule out democratic activity beyond shopping. These malls are also beyond local council laws in terms of democratic input available to citizens who rent, shop or frequent shopping strips. What this means is that the 'market place' where much political communication has taken place since humans first formed villages and towns, is being lost. #n3581_fn1" id="n3581_txt1">[1] #n3581_fn2" id="n3581_txt2">[2]
Planning fails democracy 101
One participant who admitted she had only skimmed the hefty document "Plan Melbourne" protested the lack of democratic principles in it. Mathew Guy defended his work on the basis that Plan Melbourne protected about half of Melbourne's residential areas whereas before they had not had such protection. He was vehement that he had limited developers' activities in the interests of residents. The participant remained unconvinced saying she would go home and read the document thoroughly – such are the tasks now for Melbourne residents who feel any responsibility about the future of their city. As far as most were concerned, they were there because they felt that the public were largely left out of the planning process although it affects them in ways that are often quite devastating. They have formed community groups because they are very unhappy with this.
VCAT: a State Government tool
One participant raised the issue of VCAT's role in development and planning.
Minister Guy distanced himself from any sense of control over VCAT, emphasizing where he and they had disagreed, saying "I expect no Christmas cards from VCAT".
The Victorian Civil and Administrative Tribunal(VCAT)is a State entity and the State Govt has total control over VCAT beyond even what most know.
VCAT, a very active arm of State Govt in promoting overdevelopment, is staffed by Members with no security of tenure. If Members fail to promote the State Govt line on Planning Policy about "managing population growth" (read Rapid Population Growth 60% from NOM must be accommodated by densification and destruction of amenity) then the Member's appointment is not renewed. As a local councillor on another occasion was heard to observe, "It is the perfect system." That is, it is the perfect system for promoting overdevelopment because VCAT very deliberately, repeatedly overrides the local democracy of Council on neigbourhood amenity. And woe betide the VCAT Member who fails to get the message.
The whole thrust of the MPS and the New Zones too is to "Cut Red Tape." There is a whole Victorian Government and Federal Productivity Commission project named as such - explicitly to define areas for open slather for developers. The vast legacy of VCAT decision precedents which have to date been so pro-development "by happenstance", is now to be implemented in concrete on the New Zones and the new MPS. As if Minister Guy and his predecessors had nothing to do with it because of the separation of powers.
Matthew Guy very confusing on facts
When Mathew Guy finally took SPA Victoria President, Jill Quirk's question, about his erroneous pronouncement that 85 per cent of Melbourne's population growth was from natural increase, Mr Guy stated that he had said that 85% of population growth would be in Melbourne. He added then that natural increase was about half Melbourne's population growth. Ms Quirk had to disagree again, informing him that only 40 per cent was due to natural increase, whereas 60 per cent is due to overseas migration. Mr Guy agreed. After the meeting, candobetter's attention was drawn to the fact that the ratio 60/40 was stated in the draft of the "Plan Melbourne" ("Melbourne, let's talk About the future" ) document but that this fact has been omitted from the final document. Perhaps the government thought that Victorians would not notice. It seems likely that the government prefers to conceal the fact that high population growth is inflicted on the people of Melbourne through high immigration. Further, that the Victorian government is more than happy to have as much of this growth as possible regardless of the shortfalls in infrastructure services and the displeasure of citizens who see their amenity disappearing, as the city sprawls outwards and the density of established suburbs increases.
Ms. Quirk went on to say that Victoria's population would reach about 20m by the end of the century –on the same scale as the entire population of Australia today if recent growth continues.
Mr Guy countered that State government did not really have much control over this.
Ms Quirk drew Mr Guy's attention to the fact that he had been reported recently in the news saying MP for Wills, Kelvin Thompson was ridiculous to say that immigration should be less.
Mr. Guy's response was to say that by saying that Mr. Thomson had had six years to convince his government of his point of view on population and had failed to do so.
Ms Quirk said that she did not think Mr Guy could blame Thomson for the situation we are now in.
State is engineering frightening and undemocratic population growth in Melbourne
In relation to the State Government's ability to control immigration, Ms Quirk pointed out that the Victorian government runs a website called http://www.liveinvictoria.gov.au, which promotes population growth.
Mr Guy's response was, "Yes, I'm aware of that."
Discussing within groups after the event came to the conclusion that the effect of Mr Guy's erroneous pronouncement that 85 per cent of pop growth was due to natural increase, if left uncountered, would have been to have made Victoria's frightening rate of population increase seem inevitable.
What, we wondered, was the purpose of this meeting organised by Matthew Guy? Presumably it was to tick the box of 'consultation'. In fact, Planning Melbourne will no longer take comments on the substance of the actual document, only on its implementation.
The participant's objection to the apparent absence of democracy in "Plan Melbourne" has been well demonstrated.
Victoria's state government is effectively a dictatorship. The extreme population growth accompanying this abrogation of democracy is contributing to homelessness, unaffordability, debt, environmental destruction, increasing gaps between rich and poor, and relatedly to increasing drug abuse, gambling, relationship break up and violence.
NOTES
This talk was formally entitled, in the invitations, as "Community group briefing". It took place on Friday 25 October, 2013, from 3.00pm to 4.00pm in the Sir Redmond Barry Room at 46, 55 Collins Street, Melbourne.
#n3581_fn1" id="n3581_fn1">[1] #n3581_txt1">↑ Art critic, Mark Holsworth, writes that 'Historically no city in Victoria was designed with a square because the then Governor Gipps didn't like them because they encourage democracy. Melbourne City Square was only built in 1980 (when democracy was no longer a threat)..." Source: http://melbourneartcritic.wordpress.com/tag/governor-gipps/
#n3581_fn2" id="n3581_fn2">[2] #n3581_txt2">↑ A very good article on the covert and creeping privatisation of public land can be found here: http://thenextwavefutures.wordpress.com/2011/11/12/privatising-public-space-1/