Originally published: 15 Aug 2012, Publication date changed to 24 Aug 2013 and page made "non-sticky" on 27 Aug 2013.
Some Important developments from 8 August 2012
14 Aug 2012
Terrorist Groups Trying to Cross the Border from Lebanon Repelled
Aug 17, 2012
HOMS, (SANA)- The authorities on Thursday night foiled attempts at infiltration by armed terrorist groups which tried to cross the border from Lebanon in Talkalakh, Homs countryside.
SANA reporter cited a source in the province as saying that the authorities clashed with the terrorist in the countryside of groups at the sites of al-Gheideh and al-Arideh in the countryside of Talkalakh and inflicted heavy losses upon the terrorists.
Authorities Repel Terrorist Groups Attacking Law Enforcement Personnel in Talkalakh
The source added that the authorities also repelled armed terrorist groups which attacked law enforcement personnel in al-Hosn town in the countryside of Talkalakh.
The source said that the authorities killed and injured the members of the armed groups.
Booby-trapped Car Explosion in Hama Countryside Causes Material Damage Only
In Hama, a booby-trapped car on Friday exploded near a building affiliated with the Orontes Basin Directorate in al-Ghab area.
A source in the province told SANA reporter that the blast of the car, which was placed by terrorists and detonated by remote control, caused material damage to the building's façade but no human casualties.
H. Said
14 Aug 2012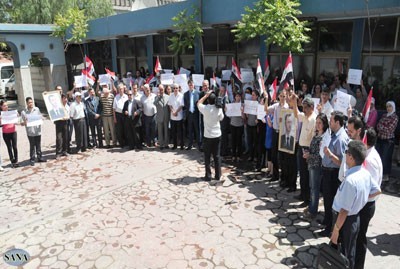 DAMASCUS, (SANA)- The Syrian Journalists' Union and workers in the private and public media institutions staged on Tuesday a solidarity stand outside the building of the Syrian Arab News Agency (SANA) in honor of the Martyr Journalist Ali Abbas and in solidarity with the kidnapped Syrian journalists.
Martyr Abbas, who was the head of the Internal News Department at SANA, was assassinated by an armed terrorist group in his home in Jdeidet Artouz in Damascus Countryside.
H.Vain/ Al-Ibrahim
14 Aug 2012
MOSCOW, TEHRAN, (SANA)- Russia on Tuesday condemned the terrorist acts committed against the journalists in Syria, urging the concerned international organizations to exert pressures to put an end to these acts.
Russia Today website quoted Maria Zakharova, Deputy Director of the Information and Press Department at the Russian Foreign Ministry, as saying in a statement "We vehemently condemn the terrorist acts against journalists. Countries with influence on the Syrian opposition in addition to the regional and international organizations should not be neutral in not responding to these facts."
She added that Moscow receives, with great concern, the news on the escalation of the attacks committed by the illegal armed groups against journalist in Syria.
Iran Condemns Terrorist Groups' Killing and Kidnapping Acts against Innocents in Syria
The Iranian Foreign Ministry also condemned the terrorist acts of killings and kidnapping perpetrated by the armed terrorist groups against the innocent civilians and the journalists in Syria.
Speaking at his weekly press conference, Iran's Foreign Ministry Spokesman Ramin Mehmanparast offered condolences over the martyrdom of the journalist Ali Abbas, the head of Internal News Department at the Syrian Arab News Agency.
He underlined Iran's continuous efforts with other influential countries to solve the crisis in Syria through peaceful means to ward off its repercussions on the region.
Mehmanparast said that his country has devoted all its efforts to achieve security and stability in Syria and create the appropriate atmosphere to hold dialogue between the government and the opposition.
He added that there is a US-Zionist scheme to sow sedition and undermine stability in Syria in service of the US and Zionist interests, regretting the US role along with its allies to destabilize the region, describing it as "destructive".
The Iranian Spokesman pointed out that after the massacres committed against the people of Afghanistan, Iraq and Libya, the US wants to carry out such plot in Syria to ensure its interests through increasing losses of the Syrian people.
Mehmanparast said that Iran opposes suspending Syria's membership at the Organization of Islamic Cooperation, calling for taking the Islamic world's higher interests into consideration instead of such proposals.
Regarding the kidnapped Iranians in Syria, he stressed that Tehran is working in coordination with other countries to get them released as soon as possible.
English Bulletin
H.Vain/ Al-Ibrahim
14 Aug 2012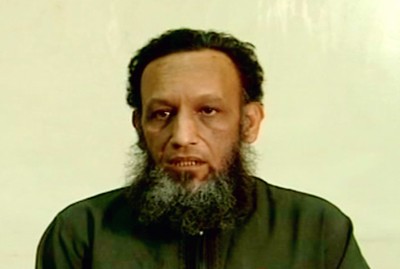 DAMASCUS, (SANA) - Terrorist Ahmad Ali Gharibo, one of the armed terrorist groups' Muftis in al-Maliha, Damascus countryside, admitted that he has issued several fatwas to the armed groups that permit killing upon which terrorists have depended to perpetrate a number of crimes against civilians.
"I was born in Aleppo countryside in 1964 and live in al-Maliha, East Ghouta.. I work as the Imam and preacher of Khadija mosque," Terrorist Gharibo said in confessions to the Syrian TV broadcast Monday.
"One day, a car came to my house at 12 midnight.. four armed men came down and asked me to go with them for one hour.. they threatened me of my son if I rejected to go with them.. they took me to Dir al-Asafeer town.. when we arrived in there, we entered a tent where a group of people were inside with drugs in front of them," the terrorist added.
He said "After interrogating me by the armed group, I pleaded to them to inform me about the person which threatened me.. they answered that his name was Mazen Zamzamm, a leader of an armed terrorist group in al-Maliha."
Terrorist Gharibo added that those evil persons were drug addicts, and one of them has raped a married woman.
"Later, they introduced me to a man called Abu Adi from Homs who has escaped from the army in Saqba.. they told me that they will give him the leadership of the group and they will name themselves as the free army, I told them you are free, it is up to you," terrorist Gharibo said.
He added that a fatwa has been issued on a website, known as the fatwa No. 107, because it was issued by 107 Sheikhs inside and outside Syria.. it permits to kill anyone who deals with the State if he was proven a killer, they asked me about my opinion, I answered yes, it is true.
"It was my first fault to give a fatwa to kill.. they were killing in a unnatural way.. they were mutilating the bodies.. I remember that they have killed five persons and threw their bodies in the sewage and rubbish containers," he said.
Terrorist Gharibo went on to say that al-Qaeda and Jabhat al-Nasra in Syria are takfiris, they believe in sectarianism, they regard bloodshed as lawful and they have no problem to kill civilians during their evil acts.
Mazen
Martyr Abbas, who was the head of the Internal News Department at SANA, was assassinated by an armed terrorist group in his home in Jdeidet Artouz in Damascus Countryside.
H.Zain/ Al-Ibrahim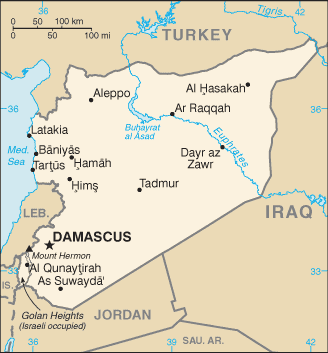 Amnesty International: An Instrument of War Propaganda?
- by Felicity Arbuthnot - 2012-08-08
"The atrocities in Syria are mounting already," according to Amnesty International USA, without acknowledging that the killings of civilians are committed by the US-NATO Free Syrian Army (FSA) rather than the government.

Syria: Terrorism As A Weapon
- by John Cherian - 2012-08-14
Topic: