Updates
Informative:
Putin: US should present Syria evidence to Security Council
of 31 Aug 2013 on
RT
,
WMD Hype: Syrian Government will not Use Chemical Weapons against its Own Citizens
of 31 Aug 2013 on
Global Research
,
UN: Rebels -- Not Syrian Government -- Used Chemical Weapons
in May 2013 on
Global Research
,
US intel report stops short of confirming Assad is responsible for chemical attack
of 31 Aug 2013 on
RT
,
Washington's threats to attack Syria unacceptable -- Russia
of 31 Aug 2013 on RT,
US Evidence against Syria are a Bad Joke
of 31 Aug 2013 on
Syria News
,
The Syria 'Chemical Weapons' Media Hype: Pushing for Military Intervention
of 31 Aug 2013 on
Global Research
,
Turkish Police find Chemical Weapons in the Possession of Al Nusra Terrorists heading for Syria
of 31 Aug 2013 on
Global Research
,
Foreign Ministry: Kerry's presentation is based on old stories published by terrorists
of 30 Aug 2013 on
SANA
,
America Totally Discredited
of 30 Aug 2013 by
Paul Craig Roberts
,
Will Obama Doom Himself As A War Criminal
of 30 Aug 2013 by Paul Craig Roberts.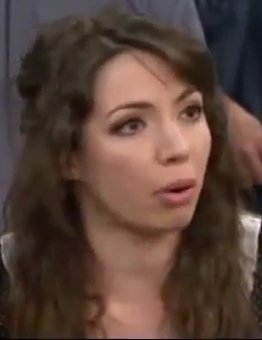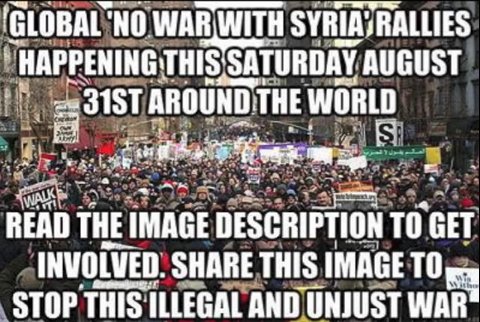 Whilst the UK Parliament has acted to prevent that country's armed forces from participating in the planned act of war against Syria, the United States is apparently still prepared to take action "on its own" in the face of the evidence and ovewhelming domestic and international opposition.
We must act to stop this outrage!
Where: Outside State library, 328 Swanston St, Melbourne
When: 2:00PM, Sat 31 August.                            Be there!
Saturday 31st Melbourne Syria Protest military attack plan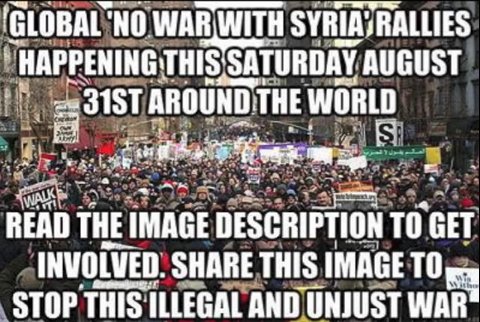 Dear AMRIS and friends,
There will be a rally on Saturday 31st at 2pm outside the State library, Melbourne (328 Swanston St Melbourne VIC 3000 - Cnr La Trobe St) to protest the planned military attack on Syria. Various groups will be involved. Layla will be speaking on behalf of AMRIS.
Please circulate this, an update on my previous email, in which the Mother Agnes link didn't work. Also a second article from today by Alastair Crooke, and below that a message from Robert Bekhazi on the dangers to Christians in particular from the threatened attack, and the assistance it will give to Takfiri groups:
Mother Agnes Mariam was interviewed by James Corbett yesterday:
http://www.youtube.com/watch?v=uSCCBnnHgfs&feature=c4-overview&list=UUvtTGZEcS8mbWdB7prg4QNw
(Also here)
She asks some important questions about the children killed in the 'chemical attack' last week. Where did so many children come from when that area had lost a lot of its population after the 'rebels' took over? I was disturbed by the fact that there were virtually no signs of women - mothers and grandmothers, aunts etc - showing care for the children or lying beside the children, also killed by the chemical attack. If the children had been in a normal family situation when there had been a chemical attack, then where were their mothers? It raises the question: had the children been kidnapped from Lattakia, for example, for this attack? The men around the bodies show little to no anguish. Is this because they are the children of 'infidels'? (This is a news report from Syria showing interviews with relatives of people killed by Takfiris in villages around Lattakia earlier in August. They show the enormous heart-felt grief one would expect from family members in this situation.)
Alastair Crooke, ex-MI6, warned against war in Afghanistan decades ago and has been warning about the use of propaganda for war purposes, the information war. His article, Straining Credibility, is an excellent reference.
He has also just written this article on the US committing an 'Act of War', which succinctly exposes the false pretext being used by the West, as well as the evident culpability of the 'rebels'. : US Attack on Syria Would be Illegal 'Act of War'.
Dr Jeremy Salt, Australian ME expert who spoke at the last AMRIS information night, presents an analysis of the current crisis, "The Guardian of what? The Media and War Propaganda"
On the AMRIS Youtube page, there is an interview with Jeremy about the media and war propaganda.
Regards,
Susan