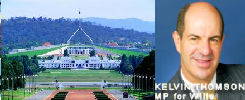 Julianne Bell (Protectors of Public Land Victoria) and Jill Quirk (Sustainable Population Australia (SPA) Victoria and Tasmanian Branches) met with Kelvin Thomson last week for advice on contacting Federal Election candidates regarding population and urban planning. They are very pleased to see that he has been appointed Parliamentary Secretary for Trade.
Kelvin Thomson Member for Wills has been appointed Parliamentary Secretary for Trade in the Federal Government. See article in the Sunday Herald Sun. I have written congratulating him on behalf of PPL VIC. He replied saying he appreciates our support.
Last week Jill Quirk, President of Sustainable Population Australia (Victoria and Tasmania) and I saw Kelvin for advice about making appointments to see Federal election candidates to discuss population and related issues such as urban planning. It was prescient of us as this was just before the announcement by the PM of an election date!
Kelvin is very generous of his time with community groups. He invited a number of representatives to meet Mr. Roy Beck of "NumbersUSA" who is "an anti immigration crusader" on 1 January 2013. (Mr. Beck was in Melbourne only for a few days.)
See attached the paper by Dr Bob Birrell and Dr Ernest Healy, Centre for Population and Urban Research Monash University "Impact of Recent Immigration on the Australian Workforce". It was released today and reported in today's Herald Sun. Bob Birrell will be interviewed to night on Channel 7 at 6:30 pm.
Julianne Bell
Secretary
Protectors of Public Lands Victoria Inc.
PO Box 197
Parkville 3052
Click on the pdf link below to view Bob Birrell and Ernest Healey's paper.